Disposable Absorbent Underarm Pad Armpit Sweat Pads For Women
Why Choose Us
Why Choose Us
1, Over 29 years of feminine hygiene products production experience servo motor system. GMP, FDA SGS,COC,ITS certified etc.
2, The production use touch screen control, could catch up with 580 pcs/min. Strictly control the product absorption 15 min/time.

3, More than 29 years manufacturing experience. Cooperated / Cooperating with Woolworth, Coles, Mannings, Waston's, Walmart, Carrefour,Shoprite, Tesco etc.

4, Customize more than 120+ brands for over 80 countries.
1. What is function of each layer for your sweat pads?
The top layer non woven and second layer airlaid are all for absorption of sweat.The PE back sheet is for anti-leakage. The glue layer against the PE back sheet is help stick to the shirt.
2. For sweat pads, What is the biggest size you have?
Please find a picture of our biggest sweat pads as below, the size is 15*12.5cm
We can also customize the pad if you don`t like the above pad shape or size. There will be mold charge for the first order if customization required.
3. Are your products already ceritfied organic? If so, by which governing body?
Yes they are, GOTS certified.
Please tell us more about your order details,we will be happy to discuss.
Bullet Point
1. HIGHLY ABSORBENT - Stops Wet Thru. Effective Odor Stopper. Comfortable & Discreet, Easy Peel & Stick.
2. EXTRA STRONG ADHESIVE - Provides Secure Placement To All Fabrics Including Silk. No Pins Or Straps.
3. HYPOALLERGENIC - Quick Drying. Save On Dry Cleaning Bills. Safe Even On Silks. One Size Fits All.
4. NON-WOVEN SUPER - ABSORBENT Top Layer And Waterproof, Noiseless Back Layer. Very Comfortable.
5. FOR MEN & WOMEN. Color: White. No Washing Necessary, Easy To Dispose Of When Finished.
* If this sounds all familiar then you can rest at ease now with our Absorbent, Disposable Underarm Shields For Men and Women. Peel & Stick makes it easy to attach to your garments.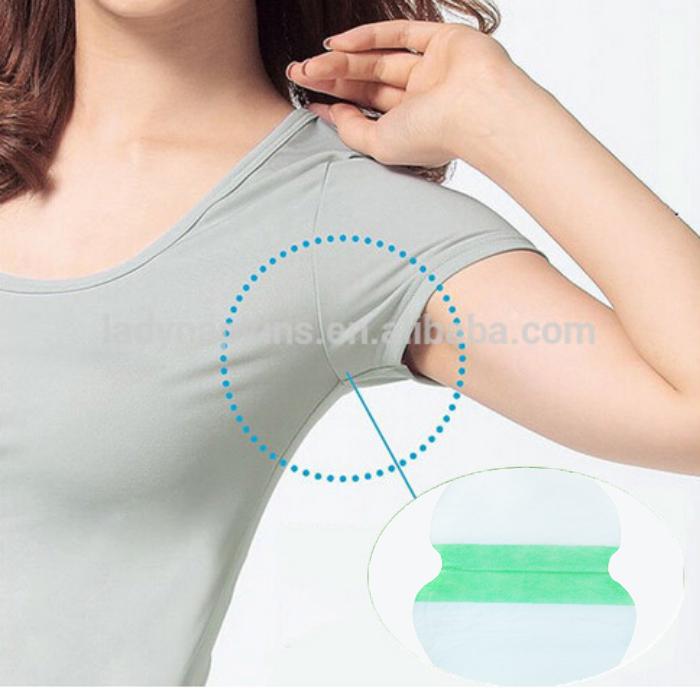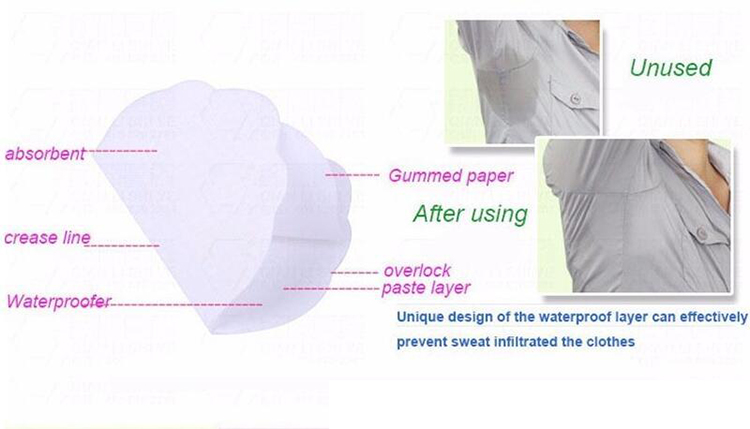 Product
Features
(1) Ultra thin (1-2mm thick)
(2) Super soft non woven top sheet, the softest touch to skin
(5) Perfect body fit design and strong adhesive keep the pad firmly stay on the shirt all the time.
Product
Specification
* Brand Name: Oui Oui, private label/OEM acceptable
* Size: AP01 (15*12.5cm) , AP10 (12.3*11cm)
* Surface: Super soft non woven
* Color of pad: White
* Back sheet: Breathable
* Package: Zip lock bag, Deluxe aluminum bag, Paper box, Normal PE bag
* Packing: 20 pads X 48 bags per carton
* MOQ : 100,000 pads each size
* Individual wrap: PE/PP
Product other feature
(1) Easy to use,soft,comfortable,non-visible
(2) Suitable for all skin types,men,women,children
(3) Highly absorbent,discreet and disposable for all day confidence
(4) Special absorbent technology for all day protection especially doing sports
(5) Stop damage to clothing,protection for your clothes
(6) Various shapes and size(regular,sleeveless,short-sleeved types) and sizes(S/M/L),meeting your special needs.
Disposable Absorbent Underarm Pad Armpit Sweat Pads For Women
Product
Pictures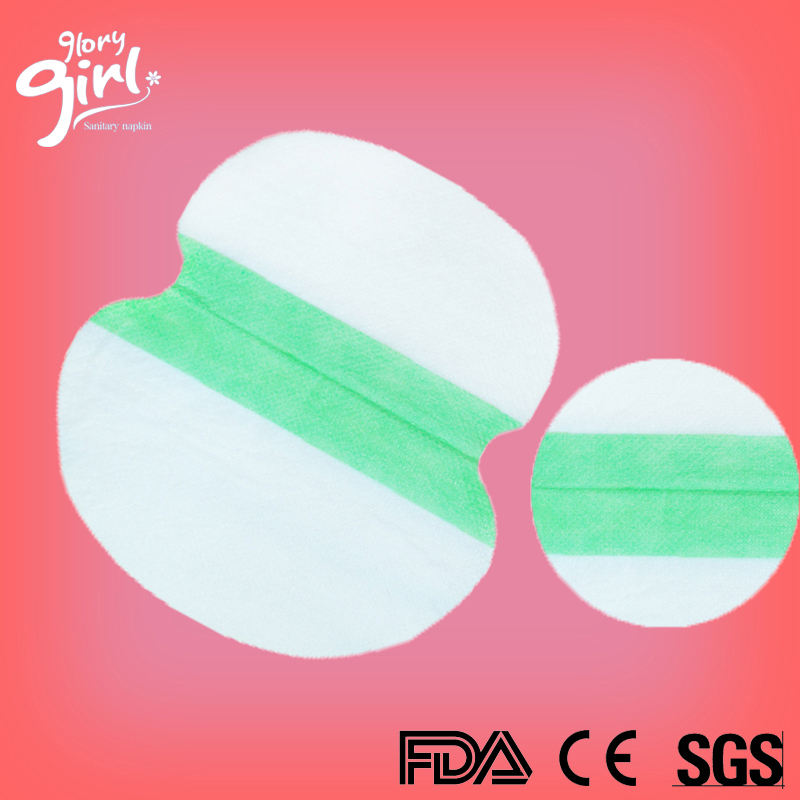 How to use

(1)Packed in Paper box/PE bags,print logo is acceptable on the box/bag.
a.Paper box is a packaging 100% recycle. Environmental sustainability has become more important in now days
It is a good option for buyers who always focus on protecting our environment. Paper box can be with different
shape and structure catering to different requirements. It is also a good option for buyers who want to change
designs often as paper box does not require any plate or mould charge.
b. PE bags is a cost-effective plastic bag. It is common globally.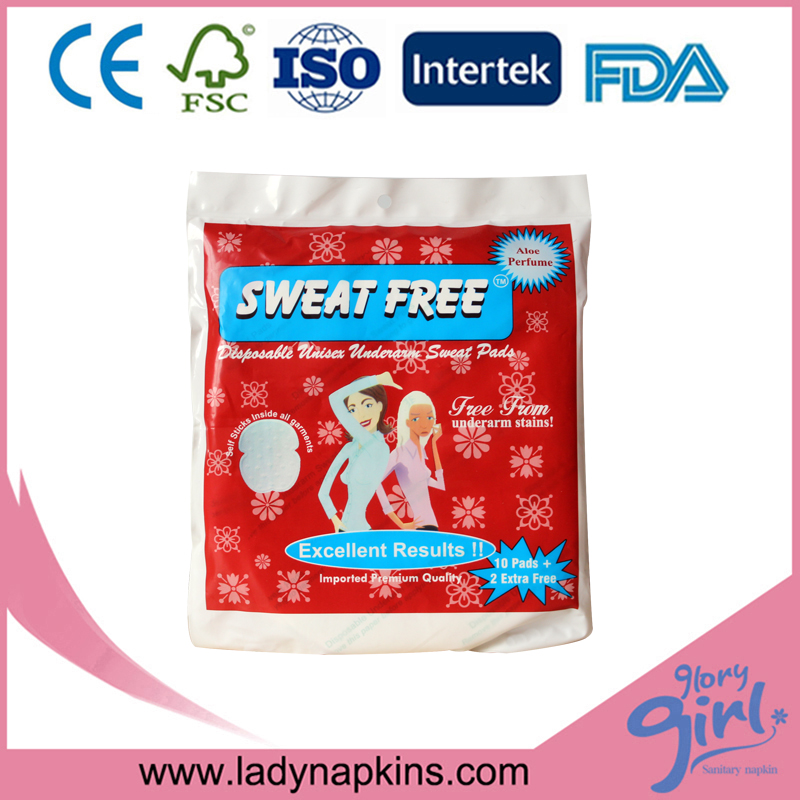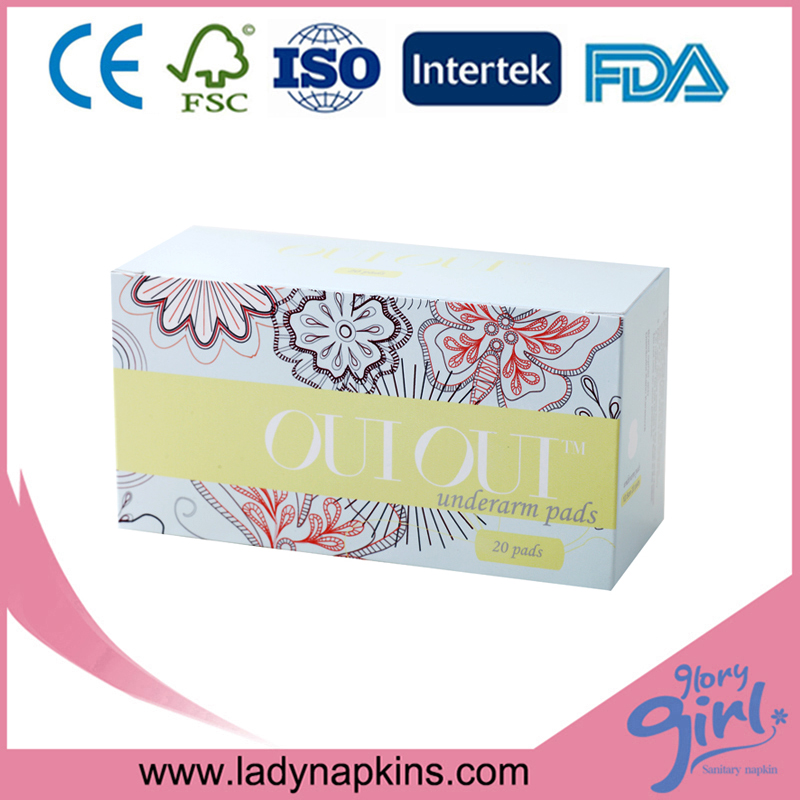 (2) Shipping: by sea or by train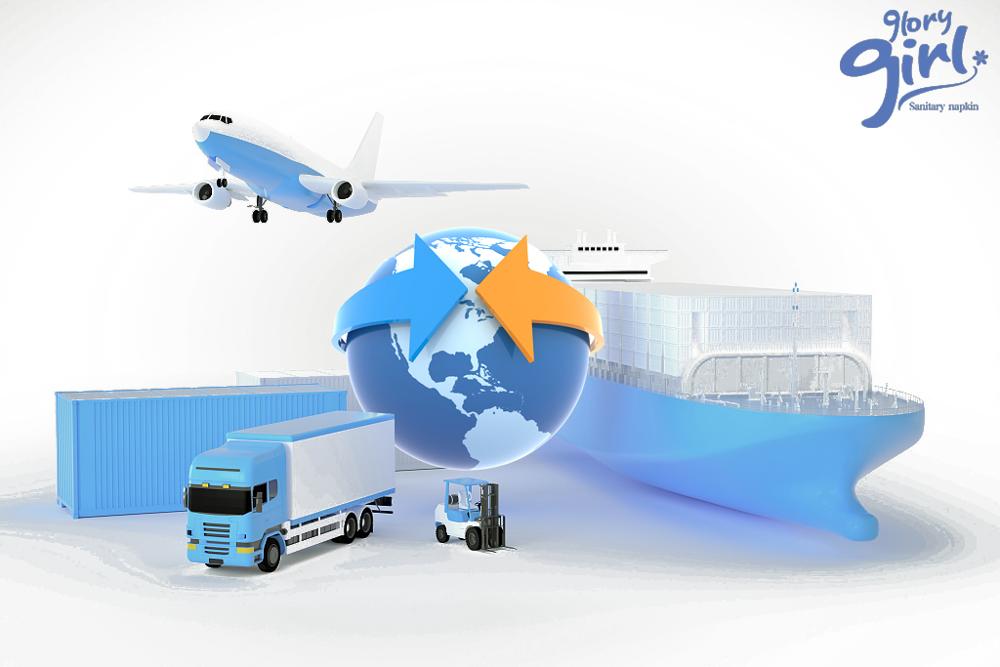 We can supply sweat pad either under customer`s brand or our own brand.
Full range of our products
(1). Sanitary napkin/sanitary pad : 180~410mm long cotton / dry weave / ultra thin / regular / maxi /
winged / wingless / functional chips / scented
(2). Panty liner: 140~180mm long cotton / dry weave /T-shape / black liners / scanty ultra thin / fluff pulp / scented
(3). Tampon: Applicator tampon/ digital tampon, mini / regular / super size
(4). Sweat pads, sweat liners, shoe liners
Certifications
Our Certifications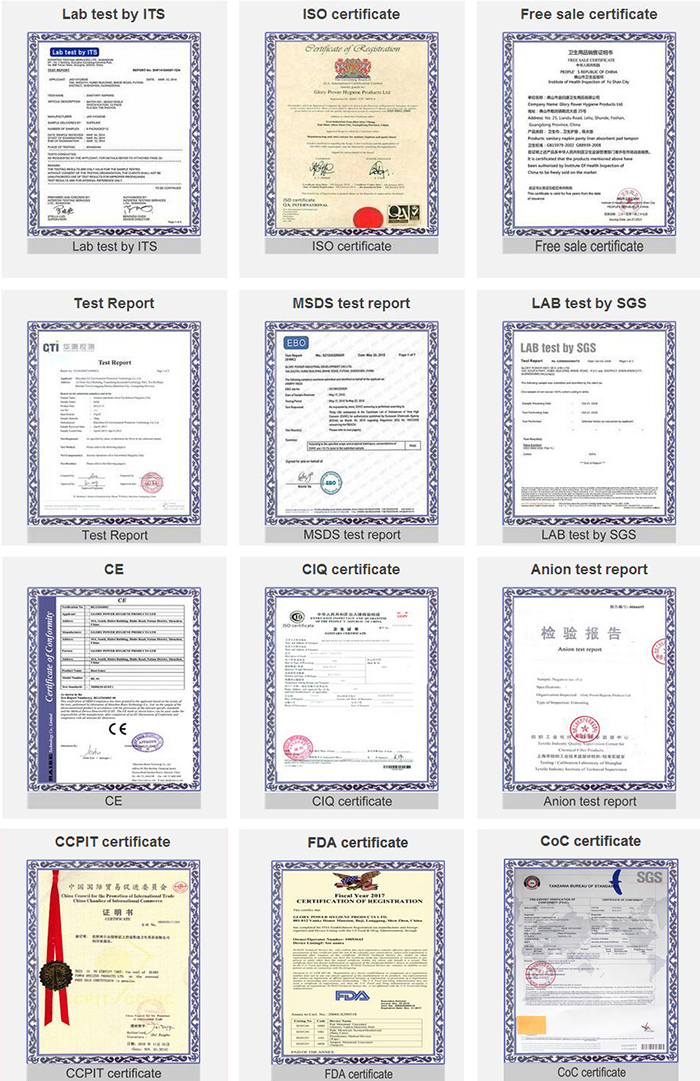 Company Information
Company Briefs

Our company is thoughtful, caring people and the focus of helping people reflects this. In the past years
We`ve paid lots of efforts in charity and social welfare.
We opened a female care hot line for answering questions about female health.
We frequently donate thousands of pads to charity or other organization and rural areas.
We support children to go to school.
We will keep going our charity to help anyone who needs.
(1) What we do
We are specialized in manufacturing high level, fashionable, safe and healthy feminine hygiene products for
women. Our products include sanitary napkins, panty liners, sweat pads and tampons in all size, type and
grades. They are carried out with the standards of FDA, GOTS, CE, I S O 9 0 0 1, SGS ,ITS ,MSDS etc.
(2) Our factory
Our factory is garden-like modern plant which covers around 60,000 square meters, equipped by auto high speed and advanced
production lines, all the devices equipped in high level ensure every pad we produce completely safe,
hygienic and high quality. Quality control runs strictly throughout all the links from raw material to finished
products.
(3) Our capacity
Our production capacity is about 110 million sanitary pads per month, and 60 million panty liners per month.
The products cover around 120 global retail brands. More vividly speaking, if made 170 million pads
(one month output) connected total length is about 40,000 kilo meters which is a circle of our earth.
(4) Liability
We regard reputation as our precious life. Liability is a guarantee for us to go farther on. From raw materials to
production, after production, delivery, after sales service, all products carried out under strict standards and
regulations throughout all links. We guarantee every packet of pads in fine quality. We are committed to be a
100% liable enterprise.
(1) Do you accept small order?
Yes,we do. We are having ready stock available now.
(2) Visit of factory?
Yes, warmly welcome a visit of our factory anytime.
(3) Free samples?
Yes,free sample available.