Brands Custom Tampon Wholesale Organic Applicator Tampons For Women
Benefits of 100 cotton tampon
100% natural cotton
NO synthetic fibre
NO bleach OR other chemicals
Prevent boby from allergy.

Free sample 100 cotton disposable best brands tampon
Mini,regular,super size, all available
(1) Smooth surface, fit well,easy to insert
(2) Natural and absorbent fiber,More healthy and safe to body
(3) 360 degree absorption design
(4) 95% anti-leakage protection
(5) The absorber was surrounded by special cotton layer. prevent the fibres from lefting inside your body
Digital tampon

Unit

mini

regular

super

weight g

1.8

2.5

3.1

length mm

4.6

5

4.9

diameter mm

1.1

1.3

1.5

absorption ml

15

25

28

Compact tampon (the length and weight include the applicator)

Unit

mini

regular

super

weight g

3.9

4.6

6.2

length mm

7.5

7.5

7.7

diameter mm

1.4

1.6

1.6

string length

11

11

11

absorption ml

22

28

30

Pearl applicator tampon (the length and weight include the applicator)

Unit

mini

regular

super

super plus

weight g

4

4.9

6.4

7.6

length mm

12.4

12.5

12.7

12.7

diameter mm

1.3

1.4

1.6

16

string length

11

11

11

11
Why Choose Us
Why Choose Us
1, Over 29 years of feminine hygiene products production experience servo motor system. GMP, FDA SGS,COC,ITS certified etc.
2, The production use touch screen control, could catch up with 580 pcs/min. Strictly control the product absorption 15 min/time.

3, More than 29 years manufacturing experience. Cooperated / Cooperating with Woolworth, Coles, Mannings, Waston's, Walmart, Carrefour,Shoprite, Tescoetc.

4, Customize more than 120+ brands for over 80 countries.
Packaging & Shipping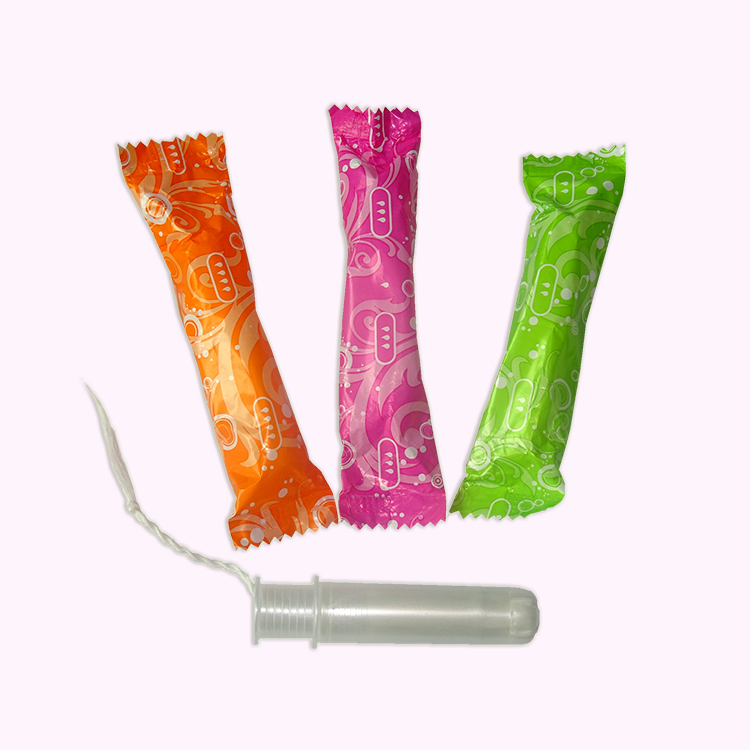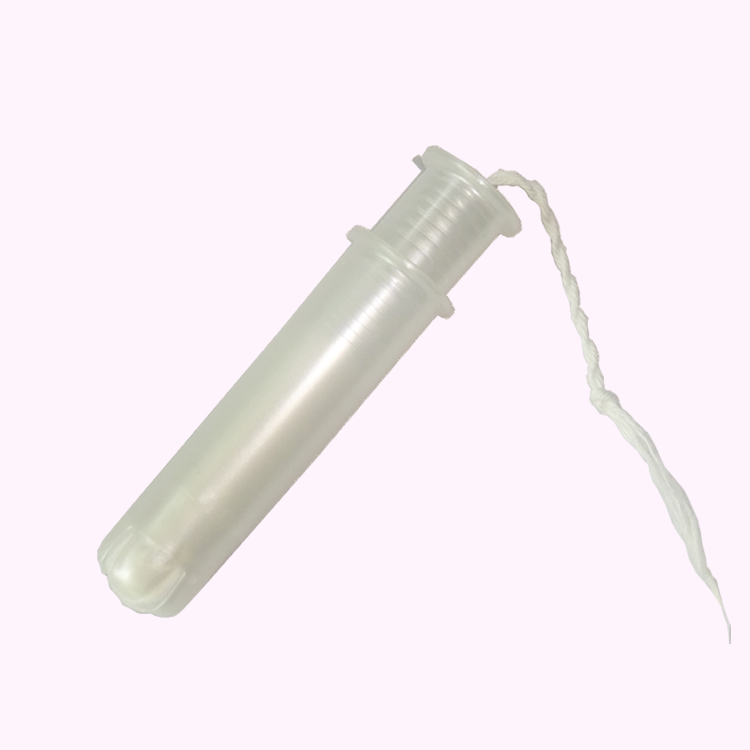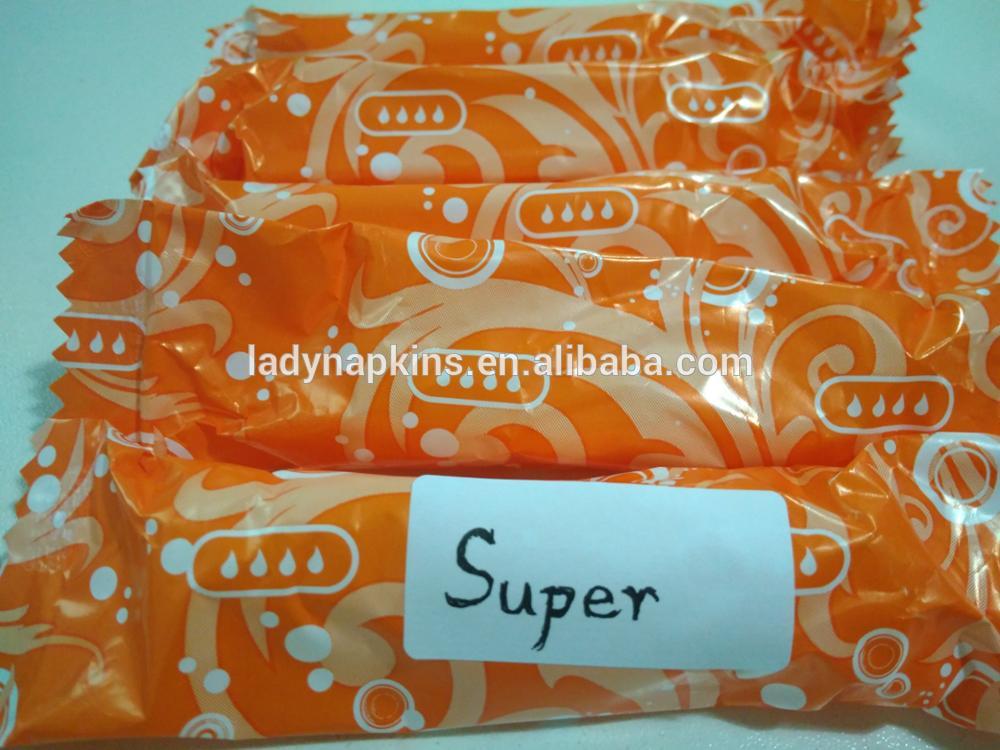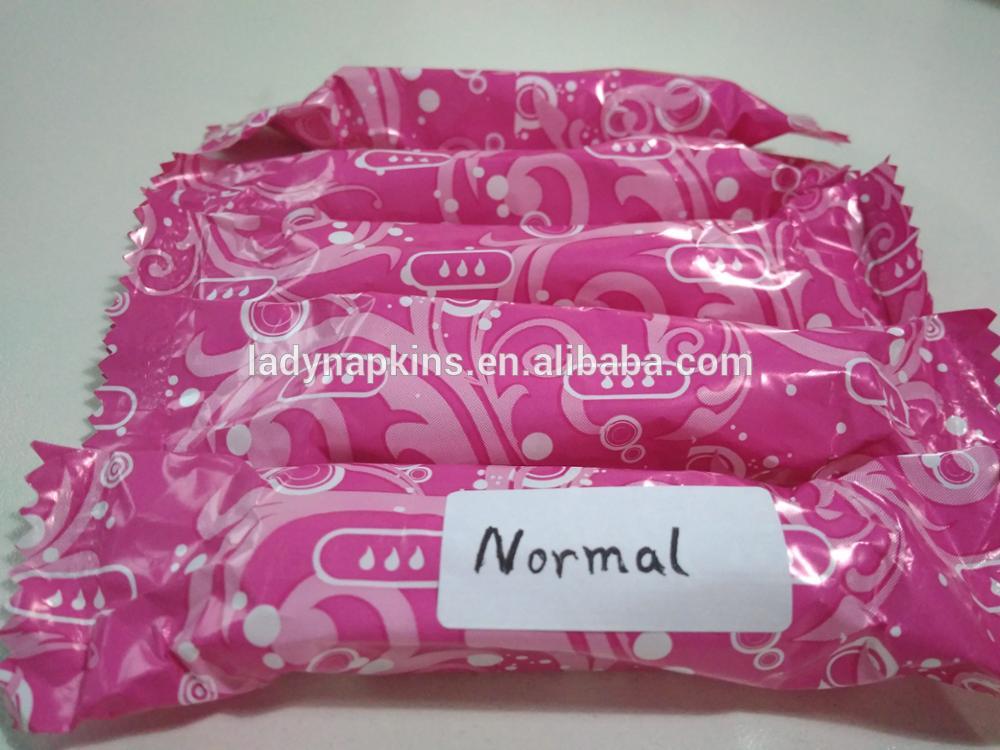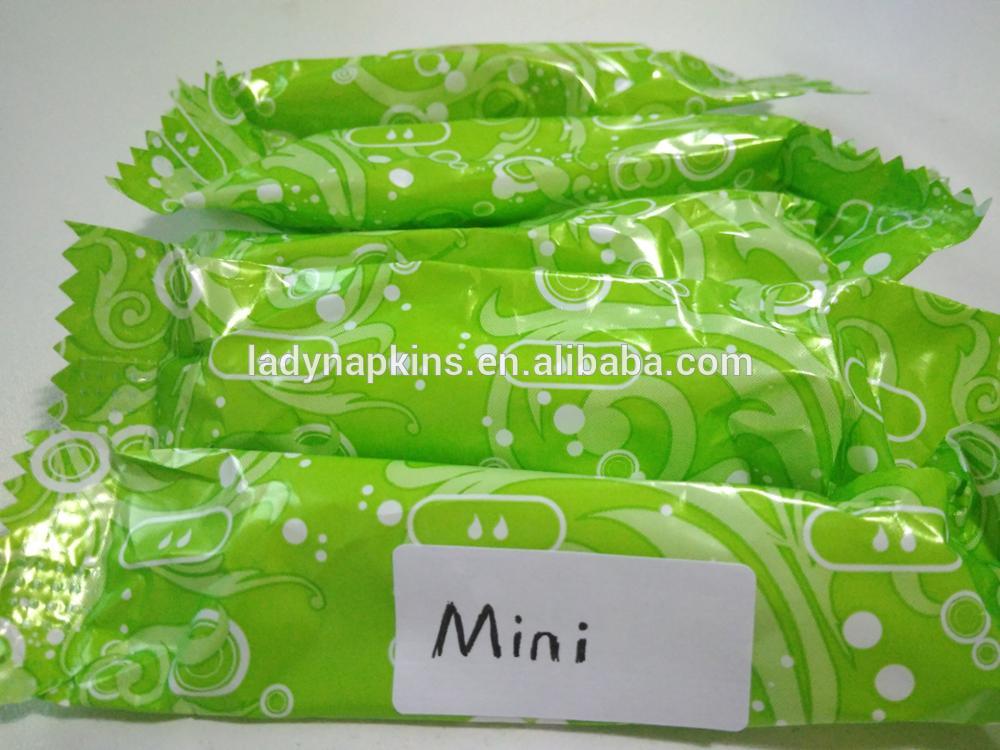 (1) Tampon Package: 8pcs/box, 16pcs/box, 32pcs/box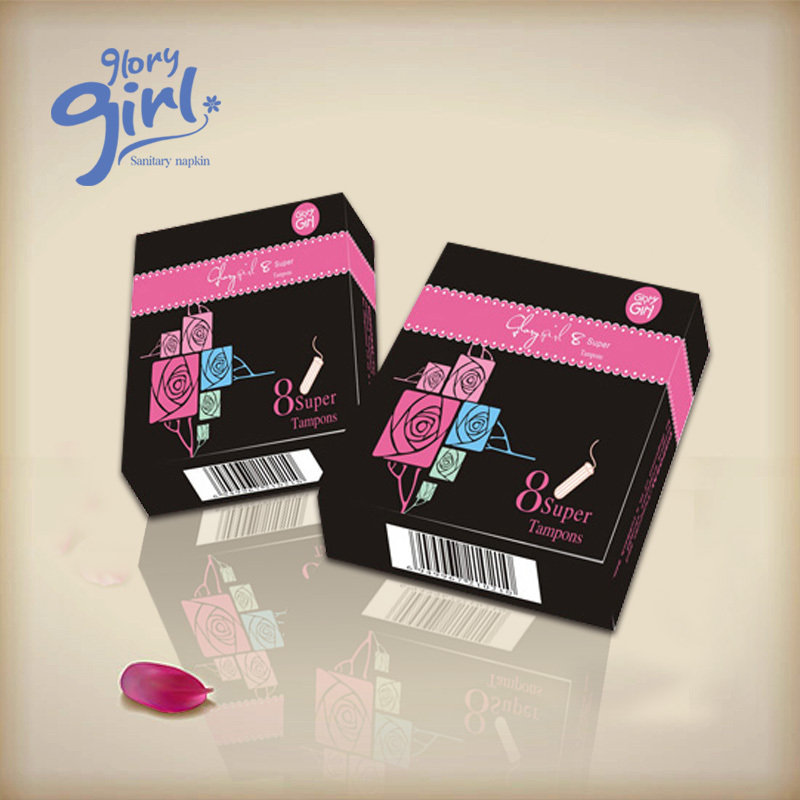 (2) Shipping: By sea or train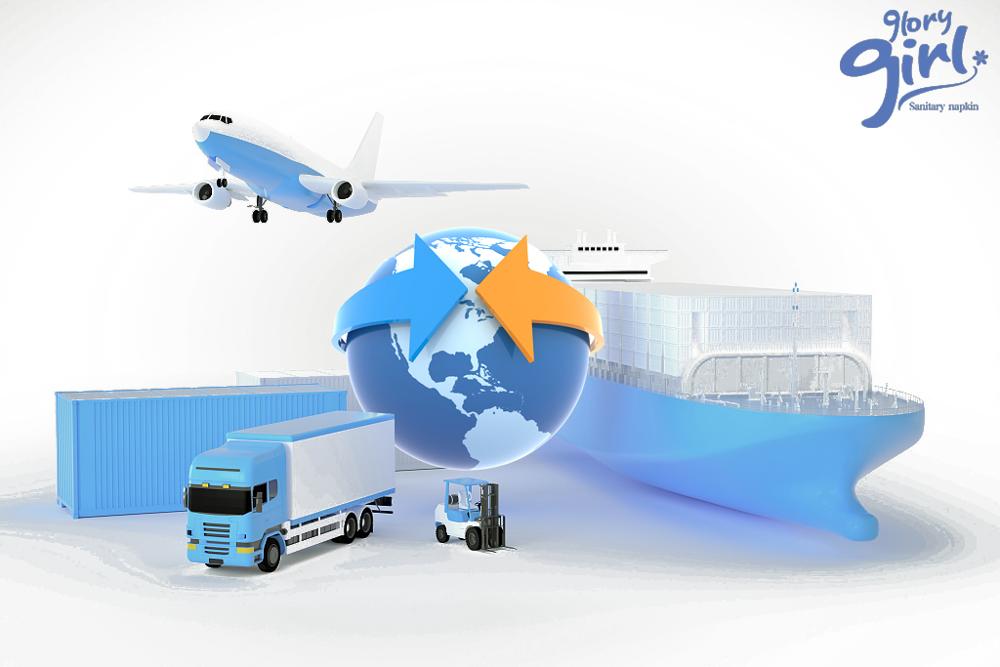 We can supply tampon either under customer`s brand or our own brand.
Full range of our products
(1). Sanitary napkin/sanitary pad : 180~410mm long cotton / dry weave / ultra thin / regular / maxi / winged / wingless / functional chips / scented
(2). Panty liner: 140~180mm long cotton / dry weave /T-shape / black liners / scanty ultra thin / fluff pulp / scented
(3). Tampon: Applicator tampon/ digital tampon, mini / regular / super size
(4). Sweat pads, sweat liners, shoe liners
Company Information
Company Briefs

(1) What we do
We are specialized in manufacturing high level, fashionable, safe and healthy feminine hygiene products for women. Our products include sanitary napkins, panty liners, sweat pads and tampons in all size, type and grades. They are carried out with the standards of FDA, GOTS, CE, I S O 9 0 0 1, SGS ,ITS ,MSDS etc.
(2) Our factory
Our factory is garden-like modern plant which covers around 60,000 square meters, equipped by auto high speed and advanced production lines, all the devices equipped in high level ensure every pad we produce completely safe, hygienic and high quality. Quality control runs strictly throughout all the links from raw material to finished products.
(3) Our capacity
Our production capacity is about 110 million sanitary pads per month, and 60 million panty liners per month. The products cover around 120 global retail brands. More vividly speaking, if made 170 million pads (one month output) connected total length is about 40,000 kilo meters which is a circle of our earth. .
(4) Liability
We regard reputation as our precious life. Liability is a guarantee for us to go farther on. From raw materials to production, after production, delivery, after sales service, all products carried out under strict standards and regulations throughout all links. We guarantee every packet of pads in fine quality. We are committed to be a 100% liable enterprise.
Certifications
Our Certifications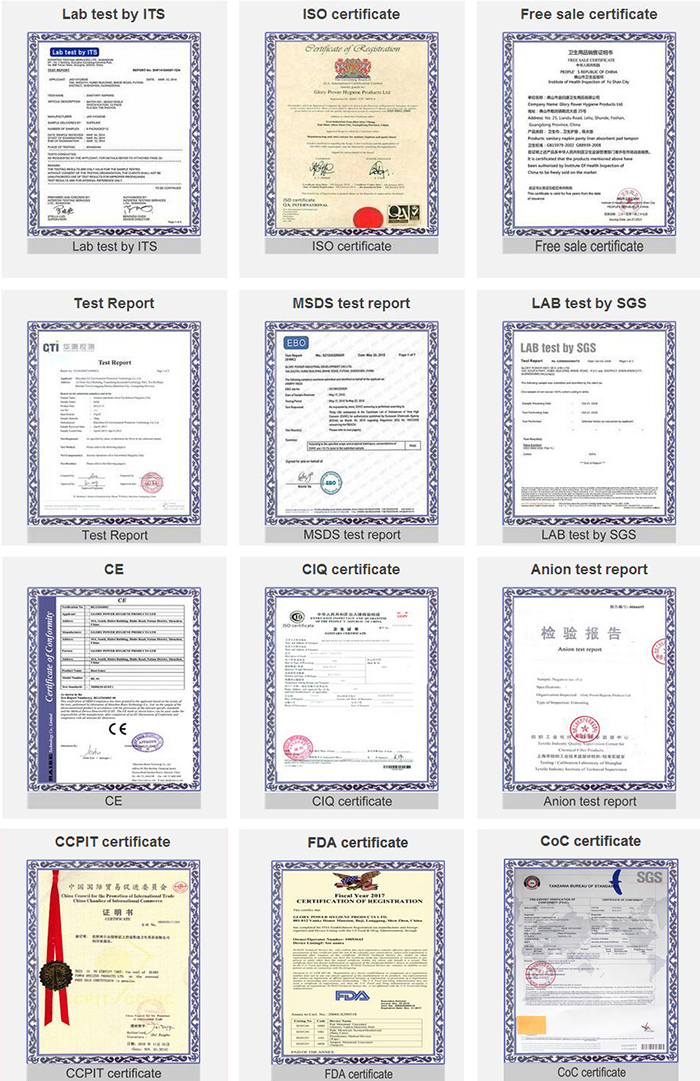 FAQ